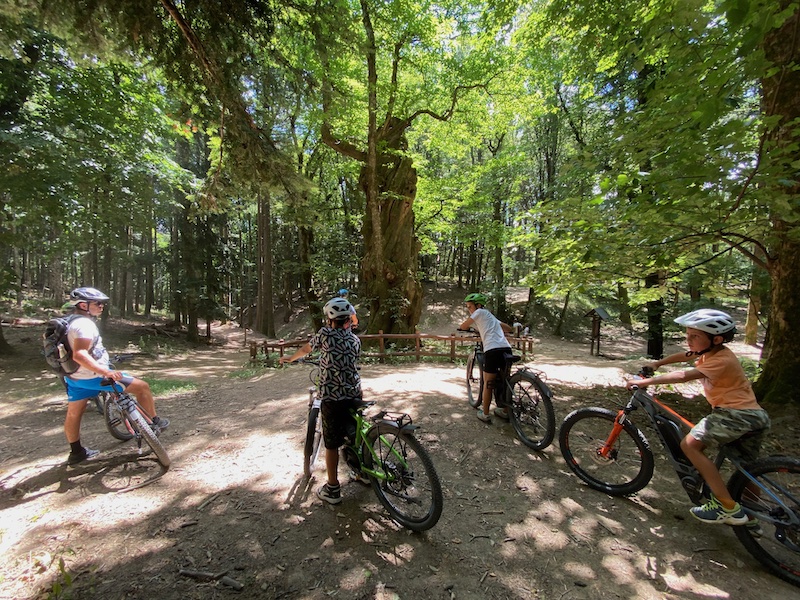 An afternoon to discover the charm and beauty of the National Park. A forest in which the Camaldolesi monks are living in symbiosis since over a thousand years. Ideal for a first E-bike or family experience. From 3.30 pm to 7 pm
A beautiful E-bike tour in the cool forest freshness - suitable for all (even families). The monks hermitage, where the contact with silence and nature are intense, standing at the foot of monumental trees, passsing the Apennine ridge and meeting a wonderful beech tree driving on a sensual forest road: these are the ingredients of this full-immersion by bike in the Sacred Forest.
Technical data
Total length: 30 km – Terrain: Asphalt and unpaved forestal paths
Difference in altitude: 500 mt
Difficulty: Green - easy
Timetable
From 3:30 pm until 7 pm parting from Eremo di Camaldoli.
Participation
Price from € 45,00, including E-Bike, helmet and MTB-guide.
Accessories can be rented: Child's luggage rack seat (max 22 kg) free of charge. Trailer Weehoo (max 36 kg) € 7,00
Taking part with your own E-bike (mandatory helmet): € 10,00.

Reservation and info: +39 339 646 79 66 (phone, SMS, Whatsapp) or by E-mail This email address is being protected from spambots. You need JavaScript enabled to view it.